One of the scribes came near and heard them disputing with one another, and seeing that he answered them well, he asked him, "Which commandment is the first of all?" Jesus answered, "The first is, 'Hear, O Israel: the Lord our God, the Lord is one; you shall love the Lord your God with all your heart, and with all your soul, and with all your mind, and with all your strength.' The second is this, 'You shall love your neighbor as yourself.' There is no other commandment greater than these." (NRSV, Mark 12:29-32)
What can you personally do to love God and your neighbor? Begin by finding your life passion and figuring out what gives your life meaning, and then share your light with others. Mahatma Gandhi said, "The best way to find yourself is to lose yourself in the service of others."
Service is a significant part of the heartbeat of Dayspring's culture. There are two major opportunities for service through ministry: (1) volunteering inside the walls of the church and (2) missions outside the walls of the church
Dayspring Volunteer Opportunities
Giving our time, talents, and spiritual gifts to further God's Kingdom
If you would like to explore some of the ways to serve Dayspring, we would love to talk to you about how you'd like to get involved. Please see below for numerous ways to volunteer. If you're unsure about what might best suit your interests and availability, please email Andrea.
Formerly called ushers, Shepherds
Audio and/or Video Assistant
Front Office Support  (Varies)
Interested in sharing your gifts for hospitality, organization, or encouragement, but have been waiting for the right opportunity to come along?
Join our Memorial Service Team here at Dayspring.
Our service to families on a day of grief (or the celebration of life) is perhaps one of the finest opportunities we have at Dayspring to reflect God's light: our gifts as individuals, and as a congregation, shine during these very tender times.
Our team approach is designed to:
Share the load so the same two or three individuals won't be asked to carry the weight of volunteering every time.
Equip You to let your God-given talents SHINE!
Be part of something special! Come and join us.
Beyond Our Campus: Mission Opportunities
The main mission of the church is to reach out to others, to look beyond ourselves, and touch the lives of those in need, both in our own community and internationally. Dayspring has many avenues in which we can express our love and concern for others.
Connectional United Methodist Missions
The United Methodist Church is organized by congregations, districts, conferences and then the General Church. We are a Connectional Church." Together, every part of the United Methodist Church contributes to our local, national, and global mission programs through a "tithe" called benevolences. We also support global missions by Advance Special Giving (identified as giving to selected projects) and by giving to the United Methodist Committee of Relief (UMCOR). In addition, our local UMW and UMM give to United Methodist missions. A sampling of UM missions includes church colleges, seminaries, hospitals, children's homes, disaster relief, and agricultural and medical missions.
United Methodist Outreach Ministries (UMOM)
UMOM coordinates urban ministries in the Phoenix Metropolitan Area. The New Day Center is a homeless shelter for families, children, and adults and seasonal overflow homeless shelters for individuals. UMOM houses more homeless families than any other Arizona agency, while they minister to the spiritual, emotional and physical needs of those around them.
Our journey with UMOM takes many forms–gifts, money, service and prayer.
On-going support is needed to provide their Sunday night dinners at UMOM located in Phoenix at 3333 E. Van Buren.
Wesley Community Center (WCC)
Since 1950, Wesley Community Center has been located in south central Phoenix. It provides many programs and services for families, children/youth, adults, and senior women, including: emergency food assistance, sewing classes, a Sr. Women's Group, and After-School and Summer Programs.
Dayspring is one of approximately 15 churches in the greater Phoenix metropolitan area to host homeless families for Family Promise, a nationwide program. Three to four times a year we host 2-4 families for one week. Volunteers provide and prepare meals for the week and spend the night to handle emergencies.  On Saturday, we take the families to a movie, or the science center, or to a local event.  Host weeks for 2022 are March 27, June 26, September 4, and December 11.
Tempe Community Action Agency (TCAA) Food Drives
Tempe Community Action Agency's food bank provides emergency food aid to all in the Tempe area.  Food collections are taken on the 4th Sunday of every month. Your donations help feed our neighbors here in Tempe!
Items that are always needed:
canned meat and meals
peanut butter
canned fruit and vegetables
cereal
dry rice and beans
dry milk and "helpers"
Other Food Drives
Sprouts also hosts a big food drive before Thanksgiving to collect food (including frozen turkeys!) for those in need.
Habitat for Humanity International is an ecumenical, grass-roots, non-profit housing ministry building homes on Christian principles in partnership with limited income families who could never qualify for homeownership on their own. This project recognizes the need for good, decent housing to bring hope, dignity and new life to families in need.
We work with the Valley of the Sun branch, serving the entire Phoenix metro area. As a part of the Mighty Methodist coalition, we build at least one house for a new family each year.
We are helping to build a house in Tempe this year. Absolutely no construction experience is needed to participate. Only enthusiasm to help make a home for a very deserving family.
Tochimizolco Medical Work Team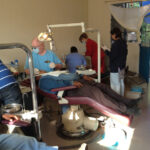 Each year a medical work team from Dayspring goes to the tiny, mountainous village of Tochimizolco, four hours southeast of Mexico City. This team assists the Methodist Church of Mexico in establishing a permanently staffed medical clinic; providing medical, dental and Bible school support. The work team encourages spiritual growth for all those involved.  This program includes three churches: Dayspring UMC; First UMC of Olathe, KS; and the Mexican Methodist Church, Mexico.
The Methodist Church of Mexico has a social outreach project called "Give Ye Them to Eat" (GYTTE). It provides educational work experiences for volunteers raising their awareness of the needs of rural life. The work focuses on reality, healthy living,  creation stewardship, environmentally-sound livestock management, sustainable agriculture, and Christian outreach. This is a cross between a jungle camp and a retreat; enabling one to reflect on lifestyles while experiencing a people and culture in a village setting.
Dayspring's Female Prison Ministry is excited to propose a variety of levels of participation in this new ministry.  The team is pleased to offer: (1) serving as a mentor with training, (2) serving as a pen pal, (3) sending monthly birthday cards to inmates, (4) providing books for the prison libraries, (5) providing yarn for inmates to knit sweaters & hats for children at a crisis center in Phoenix, and (6) providing resources for the Magdalene House (free housing for seven women released from prison).  One last ministry for which we have applied to the Arizona Department of Corrections Rehabilitation & Reentry (ADCRR) is developing and providing a guided self-study to women in medium & maximum-security yards focusing on identifying "healthy values" and "healthy choices." If you would like to be a part of any of these exciting ministries, please email Karen.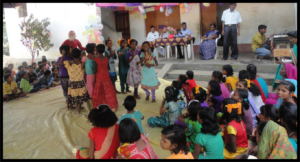 India has a population of 1.2 billion people who speak 1652 different languages. Indian Bible Translators was founded in 1978 to translate the Bible in Bible-less languages in India. To date, they have translated the full New Testament into eight languages, with ten more in progress and the full Bible currently being translated into 37 languages. Dayspring has supported its work through prayer and financial resources.
IBT has grown over the years and now employs more than 100 people full time. It has also expanded to include a Children's Home in Orissa, in the eastern part of the country. This Children's Home is currently undergoing a renovation, thanks, in part to a donation from Dayspring. The kitchen, pantry/storage room, and bathrooms are all under construction.
Dayspring Junior High and Senior High youth are quite involved with mission projects throughout the year. These programs include:
Sierra Service Project: The youth travel to different Native American reservations or inner-city Los Angeles and spend a week repairing homes for families who cannot afford it or are unable to have the work done professionally.
30-Hour Famine: The youth fast for 30 hours while they learn about world hunger and poverty, perform hunger-related missions projects in the community, and raise money for World Vision's global food program.
Since 2006, Justa Center has solely focused on older adults experiencing homelessness.  In the first five years, the average age of a senior experiencing homelessness was 57.  Today, the average age has gradually increased to 65 due to more seniors over age 70 becoming homeless for the first time.
We are currently recruiting a Justa Center Coordinator to support our work with Justa Center and delivering donations. Please email Andrea with questions or if you are interested in helping.