Rev. Jeff Procter-Murphy
Lead Pastor
For 25 years Pastor Jeff has served churches in Mesa, Phoenix and Scottsdale before his appointment to Dayspring, beginning July 1, 2014. A graduate of the University of Arizona, he received his master's and doctorate from the Claremont School of Theology in California.
Jeff is passionate about communicating the gospel message to all — especially those who've been wounded by the church or have otherwise washed their hands of organized religion. He was one of the founders of No Longer Silent: Clergy for Justice, an advocacy group for LGBT inclusion, and a founding board member of Family Promise, a program yoking faith communities to reduce homelessness in the Greater Phoenix Area. In 2015 Jeff was honored by the City of Tempe with a Diversity Award at its annual MLK Diversity Awards Dinner.
Jeff and Rev. David Felten (currently pastor at the Fountains, a United Methodist Church in Fountain Hills, AZ), have collaborated over the years on Living the Questions, which started out as a DVD program and has grown into a comprehensive curriculum now in use in nearly 6,000 churches in North America, Europe, and Australia/New Zealand, as well as a book, Living the Questions: The Wisdom of Progressive Christianity, published by HarperOne.
Jeff has been married to Janice for over 25 years. They have two daughters, Rachel and Claire. They enjoy travel and the outdoors and the girls indulge their father with an annual camping trip.
Rev. Joel Bullock
Pastor, Congregational Care and Intergenerational Ministries and Dayspring Arcadia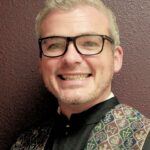 Joel grew up in rural western Kansas, literally 100 miles north of Dorothy's house (from the Wizard of OZ) and loves to cheer on the Kansas Jayhawks Basketball team. He received his undergraduate degree in voice performance in Indiana at Anderson University and attended seminary at Anderson School of Theology. He continues to take graduate courses at Claremont School of Theology.
Joel has served as a pastor for over 17 years in Ohio, Indiana, California, and now Arizona. Mentoring and nurturing others to discover their fullest God given potential is a passion of Joel's. He finds being a pastor as means to help others discover how they can be and do incredible things in the Kingdom of God.
He also serves as an ambassador for Group Publishing and is a national trainer for the Godly Play Foundation.
For fun, Joel loves to hike Arizona trails, visit the beach, and explore city life. He can be found regularly at a local coffee shop having a conversation with friends and meeting new people. The joy of his life is his young daughters, Anna and Heidi. Together, they love to play and discover all of God's creation, and find humor in the littlest things, especially in Arizona and anywhere near the ocean.
Rev. Shirley Wells
Minister of Spiritual Formation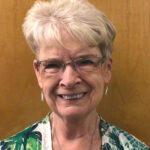 How grateful I am to be serving on the staff at Dayspring again! Dayspring has always been in my heart from the very first time I worshipped here – on Easter Sunday in 1989! My first time on the staff was the very next day when I remained for two years. After a time in Florida, I returned in 1996 and remained until 2005 when I retired! Of course, I never retired and am so very thankful to be able to serve again with this marvelous staff.
Exciting times are ahead!
Amy Notbohm
Community Curator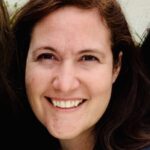 Amy Notbohm is almost an Arizona native. She grew up in Tucson from the age of 6 and moved to Tempe to attend ASU. She has an undergraduate degree in accountancy and a Master of Tax. She recently returned to school and completed her Master of Divinity degree from Claremont School of Theology in 2019. Amy's professional experience most recently was in Human Resources with a focus on career development and diversity & inclusion. Amy has been a member of Dayspring since 2013 and served in several roles include lay leader, Staff-Parish committee member and capital campaign co-chair.
Amy and her husband Brady have been married since 2003, and they are busy with two active school age children, Paige and Blake. Amy is passionate about sharing new and ancient ways to explore spirituality and helping others on their own personal spiritual journeys. She is an avid reader and enjoys cooking and getting into nature when her family's busy schedule gives them a free weekend!
Dr. David Schildkret
Director of Music Ministries
David Schildkret is Director of Choral Activities at the ASU School of Music. Born in Brooklyn NY, he earned the Bachelor of Arts in Music degree from Rutgers University and master's and doctoral degrees in choral conducting from Indiana University. He has taught at the University of Rochester (NY) and at Centre College (KY) and was dean of the School of Music at Salem College (NC) before coming to ASU in 2002. He has been the Director of Music at Scottsdale United Methodist Church since 2003 and the Music Director of the Mount Desert Summer Chorale in Bar Harbor, Maine, since 2000. His wife of 41 years, Susan Griffin, teaches dance at South Mountain High School in Phoenix. She was recently named the 2019 National Dance Educator of the Year by the National Dance Education Organization. Susan and David have two daughters: Elizabeth holds the PhD in Theatre for Youth from ASU and is assistant manager of theatre education at the Kennedy Center in Washington DC. Miriam holds the DMA in voice from ASU's School of Music and is a freelance teacher and performer. She appears regularly with Arizona Opera.
Learn more at David at his website: Schildkret's Website.
JulieAnne Weissberg
Associate Director of Music Ministries
Erin Larkin
Youth Ministries Coordinator
Andrea Farley
Children's Ministries Coordinator & Administrative Coordinator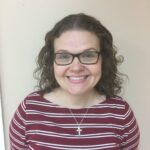 Kris Kroeger
Marketing and Communications Manager
Carol McKnight
Church Accountant
Dr. Robert Mills
Music Associate
J.J. Mitchell
Music Associate
Julie Hackmann
Director of Bell Choirs
Annie Mayson
Nursery Coordinator
Frankie Vasquez
Custodian
Kim Shown
Preschool & Kindergarten Director