Safe Sanctuary
Dayspring is a Safe Sanctuary church where children, youth and elders may experience the abiding love of God and fellowship within the community of faith
Sunday School Classes for Four-Year-Olds through 6th Grade
Age-appropriate classes for children are provided during the worship services weekly. Classes are taught by teams of teachers dedicated to developing your child's Christian faith. Children must be four before Sept. 1st of the current school year to participate. Younger children will be provided with age-appropriate play and activities in the nursery and 2's/3's playroom.
Sunday School Curriculum:
Age-appropriate Sunday school classes for children in PreK – 6th grade during the school year and a multi-age Sunday school format is in place during the summer. PreK-Kindergarten students use object based lessons, drama, and play to experience and understand Bible stories. 1st-2nd graders follow the Godly Play curriculum, a program that was created in the Montessori style to allow children to make the Bible stories their own through hands on play and wonder. 3rd and 4th graders are beginning to look into their Bibles to understand how to use them, where to find the stories they already know, and how to understand and internalize what they encounter. 5th and 6th graders continue to explore their Bibles, focusing on reading them in a way that makes connections to their own lives and the world around them.
Professional Childcare
Professional childcare is provided during each worship service for children from birth through age two. Age-appropriate play and activities are provided for older toddlers.
Children's Worship Guides
Children's Worship Guides are available for children attending worship. They contain crayons and lesson sheets. Available for ages 3-12, with activities that suit their skills.
---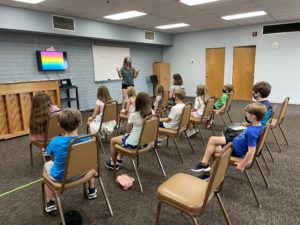 Children's Choirs
Let your child express the music inside her or him! All the children's choirs meet on Wednesday nights. The Cherub Choir is for 3 year olds – Kindergarteners at 6:00 p.m. in Room 201. Dayspring Children's Choir is for 1st – 6th grades and meets at 6:00 p.m. in Room 206. These choirs sing in church once a month. more
---
AWAKE
The United Methodist Church traditionally presents Bibles to 3rd graders in September. But what then? "Awake" is an overnight lock-in in the fall and spring for 3rd – 6th graders that teaches them about their Bibles.
BeTween
BeTween is an adaptation of the Covenant Discipleship groups, designed especially for children in 4th – 6th grades. In small groups, led by an adult, children create their own covenant. They met weekly to share their successes and struggles to keep their covenant, pray for each other and the church, explore issues of justice in their communities and the world, and do service projects.
Vacation Bible School
Each year we hold Vacation Bible School in late June. Children 3 years old prior to September 1st of the previous school year through those who have completed 5th grade may attend.