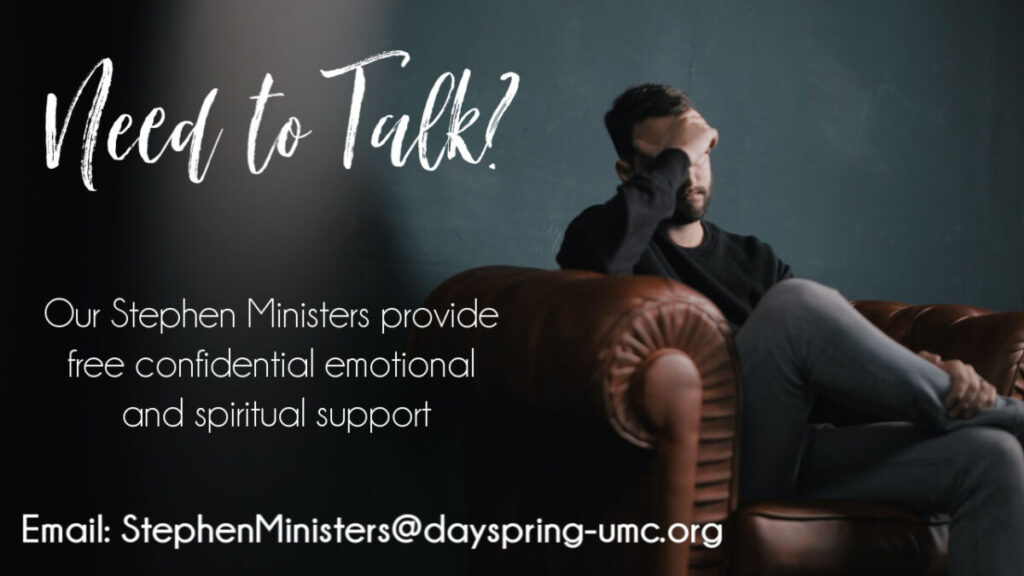 Are you going through a difficult time?
Stephen Ministers are members of our congregation who listen, care, encourage, and provide emotional and spiritual support to people who are facing a crisis or going through tough times. The care you'll receive is confidential, free, and very helpful.
Are You Experiencing Pandemic Fatigue?
Are you feeling exhausted from all the disruptions to life brought on by the pandemic? Are you or someone you know struggling with challenges like . . .
Isolation and loneliness;
Anxiety over health;
Grief due to many different kinds of losses;
Tension from juggling work, childcare, and schooling;
Financial strain or job loss;
Uncertainty about the future; or
Other unexpected life challenges?
If so, you don't have to face it alone. Our Stephen Ministers are ready to listen, care, encourage, and provide emotional and spiritual support.
A Stephen Minister will meet with you privately—by phone, by video chat, or, if safely possible, in person—to offer care and support. It's free and completely confidential.
"Come to me, all you who are weary and burdened, and I will give you rest." —Matthew 11:28
Stephen Ministers care!
Stephen Ministers provide one-to-one Christian care to people in our congregation and community who are experiencing grief, loneliness, divorce, hospitalization, disability, job loss, and many other life difficulties.
Going through a tough time – emotionally or spiritually? Struggling with a crisis in life? Or simply feeling down?
Consider letting a Stephen Minister help. A Stephen Minister is trained to listen, care, encourage, pray, and walk alongside people who are hurting.
To learn how to become - or receive care from - a Stephen Minister, call the church office at (480) 838-1446 or email by clicking below.