Exploring Fresh Expressions at Dayspring Tempe
Greetings, Dayspring Community!
In our pursuit of meaningful and engaging Sunday services, the winds of change are stirring at Dayspring Tempe. We are fortunate to count among us a fellow member, Dale Dauten, whose expertise in creativity has led him to remind us that "Different isn't always better, but better is always different." As we emerge from the shadows of the COVID pandemic, it's abundantly clear that change is essential for Dayspring to thrive.
With this notion in our hearts, let's contemplate some possibilities. Our focal point: capturing the interest of younger generations and those who seek a spiritual connection, without necessarily adhering to conventional church norms. Could we simultaneously provide for our steadfast congregation while welcoming new seekers into the community of faith?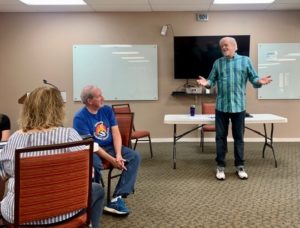 Recently, Dale Dauten orchestrated a retreat that took Dayspring's 25-member Covenant Council on a transformative journey to envision a renewed Sunday morning experience. Dale's track record of innovation spans esteemed organizations such as NASA's Johnson Space Center, Honeywell, and Caterpillar, to name just a few. Dale invited us to explore fresh perspectives on what it means to gather as a church individually before pooling our insights in small group discussions.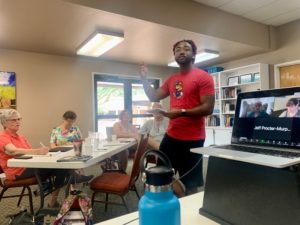 A prevailing theme emerged from our collective brainstorming sessions: as opposed to having two nearly identical services as we've done in the past, we contemplated offering a diverse array of Sunday services, each tailored to various spiritual needs and outlooks. For instance, Pastor Michael, drawing from his campus ministry background, proposed curating a service called "Faith Unplugged," aimed at engaging young adults. This could potentially follow our 10am core service at 11:30am, with additional offerings such as spiritual formation for all ages, choir practice, and coffee fellowship available before and after the "anchor" service. Moreover, we're considering introducing a brief unique service at 9am with an entirely different atmosphere than the 10am gathering.

Another vibrant concept that has gained momentum is an adaptation of the "First Fridays" model, aptly named "Second Sundays." This concept envisions an assortment of activities like yoga, fellowship groups, Bible study, contemplative prayer sessions, food, and even "Messy Church" for families with children. In the words of Dale Dauten, "Second Sundays might take on a life of its own, perhaps attracting once-a-month attendees, and eventually serving as a bridge to deeper engagement with all our offerings."
As these ideas take shape, we are currently reviewing the feedback from our all-church survey on Sunday mornings at Dayspring Tempe. Your valuable insights are crucial to our progress, and we invite you to join us for a town hall discussion on Sunday, September 17th, right after the 10am service, in Fellowship Hall. Together, let's embark on this exciting journey to reshape Sunday mornings at Dayspring Tempe into something even more extraordinary!
Blessings,
Pastor Jeff