Borderlands Produce Rescue
Borderlands hosts a monthly produce distribution event at Aldersgate UMC where families can purchase 70lbs of rescued produce for $12. In this time of increased unemployment and food insecurity, this ministry is critical for the neighborhood. If you are healthy and looking for a chance to serve, please consider joining us there one Saturday morning a month to help sort produce, pack boxes and load cars! Be sure to bring a mask and gloves if you have them. Please email Amy for more information.
Annual Thanksgiving Food Drive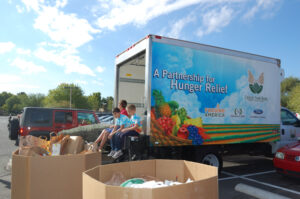 Every year, our Children's ministry hosts a Thanksgiving food drive to benefit the United Food Bank. Because of the complexities of this year, in 2020, this will be a drive by, drop off event. We will have masked, distanced volunteers on hand to collect your items including non-perishable food items, frozen turkeys and even cash donations for the purchase of produce. Food items could be dropped off on November 21 and 22 between 8am-12pm. This year, the holiday season will surely find larger numbers of families in need than in years past. Please help us do our small part to support these families.
Fourth Sunday Food Drives
Fourth Sunday Food Drives are temporarily suspended until we are able to resume in-person services.
We hold a food drive the fourth Sunday of every month. Always needed: canned meat and meals, peanut butter, canned fruit and vegetables, cereal, dry rice and beans, dry milk, and "helpers". Your donations help feed our neighbors here in Tempe through the Tempe Community Action Agency!