Dayspring Music Hour
If you too are missing the great music at Dayspring, we invite you to join us! You do not need to be a member of the choir. And in fact, if you have been thinking about joining one of the choirs, this would be a great way to get to know some of the choir members! We meet via Zoom each Wednesday from 7-8pm. At these informal gatherings, David plays recordings of favorite church music from a variety of traditions. Email David for the Zoom address. Feel free to request music you'd like to hear! Anyone is welcome, whether or not you sing in the choir.
A Message from Our Director of Music Ministries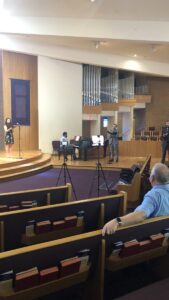 As of September 1, I completed my first year as Director of Music Ministries at Dayspring United Methodist Church. But, because time has stood still, I didn't even notice the anniversary until I sat down to offer some thoughts for this monthly newsletter. Thanks to your welcome and the way the staff quickly embraced me, I didn't feel like a newcomer for very long! Dayspring has quickly become home for me. It is a special privilege to serve with our pastors, Jeff, Joel, Amy, and Shirley, and with the wonderful music staff–Julie, JulieAnn, Amanda, and Kate. Norman Jenson and Robert Mills are my steadfast ports in any musical storm, and the trio, headed by Beth Lederman, adds welcome variety and energy. Our quartet of soloists rounds out a vibrant ensemble: Amanda, Miriam, Justin, and John. The choirs are full of dedicated people who sing and play for the love of one another, the joy of music, and the love and praise of God. Supporting and sustaining it all is a creative, dedicated staff headed by Andrea and Kris. And of course, thanks to all in the congregation who hear and sing and appreciate. Together, we are a mighty force.
Lately, I've been thinking of two poems that I first heard some years ago.
The first is worth reading in a time when we feel that the world has narrowed. It reminds us that once the world was even narrower, so while we have lost much, there is still much to be grateful for. The Stillness of the World Before Bach, by Lars Gustafsson translated by Philip Martin. 
I return to this second poem often in times of trouble (which seem to be nearly constant these days): A Brief for the Defense by Jack Gilbert. 
Gilbert invites us to "risk delight" even in the face of hardship. "To make injustice the only measure of our attention," he says, "is to praise the Devil." So let's risk delight and remember that there will, indeed, be music once again, despite everything.
Gratefully and affectionately,
David Schildkret