YOUR INPUT NOW ON PROPOSED EPA RULES CAN CHANGE OUR FUTURE
The U.S. Environmental Protection Agency (EPA) is proposing two rules on methane gas emissions and small particle air pollution, or soot. This week, we'll focus on methane gas, a greenhouse gas (sometimes called "natural gas") that traps 80 times more heat than carbon dioxide. Methane leaks also affect the health of people living near these operations, who suffer higher rates of asthma as a result. The EPA has proposed tightening rules on oil and gas operations to cut methane leaks – a critical step toward reducing the present danger we face from climate change. It's easy to use Interfaith Power & Light's online comment tool to let the EPA know you want stronger protection for Arizona, your community, your health, or the health of a loved one.
FEBRUARY 7 IS ENVIRONMENTAL DAY AT THE ARIZONA LEGISLATURE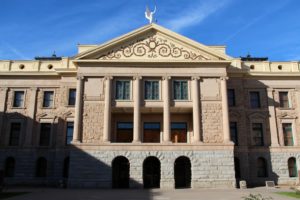 Environmental Day at the Capitol is an opportunity to tell our state legislators that we care about saving God's sacred creation. Interfaith Power & Light (IP&L) invites us to join them, along with over 20 other organizations. They will provide information tables, speakers, and appointments with legislators. You need not have experience or be an expert. IP&L will provide volunteer lobby training, as well as issues briefings, and each legislative team will have a team leader. From 9:30 to 11 a.m., there will be meetings with our state legislators, followed by various speakers and committee hearings. If you can join any part of this event, we'll meet at Wesley Bolin Plaza, across the street from the Capitol. Once you register, please email Maureen to help us stay in touch with Dayspring participants.
New S.A.G.E. Ministry is About "Saving Us"
Arizona's highest point is Humphreys Peak at 12,633 feet, one of the San Francisco Peaks hovering over Flagstaff.
Named after St. Francis, the Peaks are also sacred to 13 indigenous tribes in the region, including the Navajo (who call it Doko'oo'sliid or "Shining on Top") and the Hopi (who call it Nuvatukaovi). These peaks are one of the "sacred places where the earth brushes up against the unseen world," in the words of Yavapai-Apache chairman Vincent Randall.
The San Francisco Peaks are just one of many sacred places Dayspring's newest ministry seeks to honor and protect as, "together we responsibly care for God's sacred creation by working for environmental health and justice."
Recognizing that all creation is one, our mission includes all the people and life inhabiting our beautiful earth. As climate scientist Katharine Hayhoe explained in her recent book, restoring the natural balance of God's creation is nothing less than "Saving Us."
Dayspring's Spiritual Activists Greening the Earth, or S.A.G.E., invite everyone in the congregation to participate in our new mission and goals for 2023. This work is intrinsically linked to other Dayspring mission work in areas such as social justice, the giving garden, and youth ministry projects that serve people around the country and the world – often those most impacted by environmental changes.
The Sunday Explorer's Class is currently exploring ecotheology, a transformational study of our Christian imperative to respond to the current – and urgent – environmental crisis.
Indeed, St. Francis shows us how inseparable the bond is between concern for nature, justice for the poor, and our commitment to society and interior peace.
Let's carry the hope and joy of the Christmas season into our S.A.G.E. mission for the new year. The S.A.G.E. team looks forward to working with everyone at Dayspring in 2023 as we work on goals in five focus areas: Worship and Liturgy, Education, Buildings and Grounds, Community Engagement, and Faithful Advocacy.