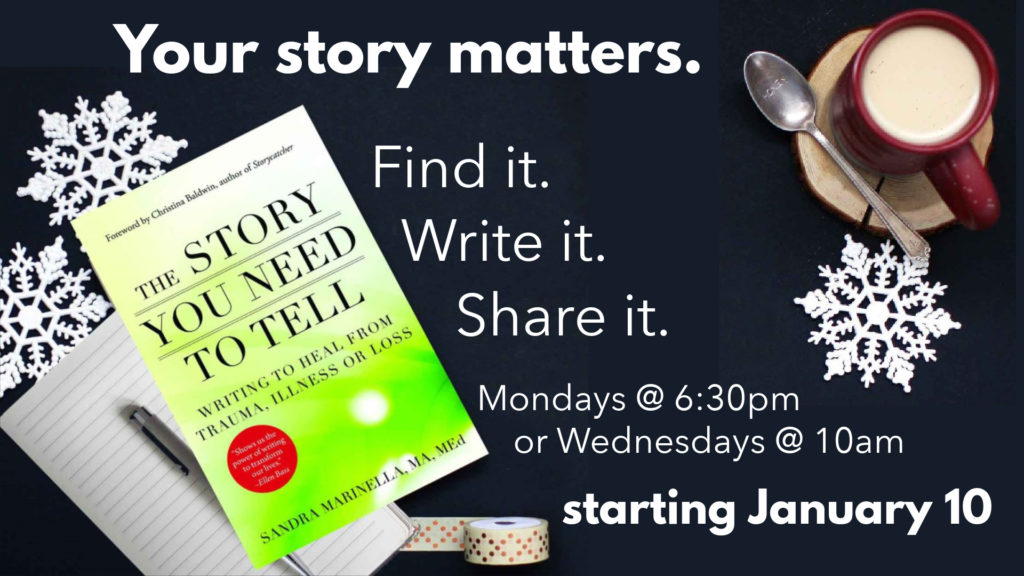 Do you have a story? Ignite your interest in the power of your personal stories. Together we will read the book and talk about how our brains are wired with our stories, and how our stories can define, grow, and even transform us. We will explore how to share and write our stories in ways that will lead to renewal, resilience, and well-being – even amid a pandemic or a cancer diagnosis. Based on positive psychology and pioneering research with veterans and cancer patients, this guide was created to help us share, write, and live our best stories. Join us for story inspiration and connection. Enrollment is limited.
Facilitated by author Sandra Marinella, this course meets on Zoom on Mondays at 6:30pm, starting January 10 or Wednesdays at 10am, beginning January 12. The book may be purchased from Changing Hands Bookstore or from the bookseller of your choice. Email Pastor Shirley with any questions.
MONDAYS from 6:30-8:00pm: January 10, 17, 24, 31 and Feb. 7, and 14
WEDNESDAYS from 10:00-11:30am: January 12, 26, February 2,9,16, and 23
To register, please email Andrea.