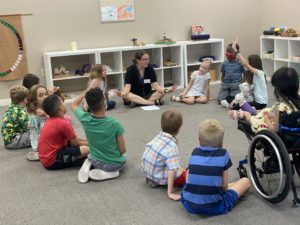 August has been a productive and fun month for Dayspring Children's Ministry. Step-up Sunday was a huge success with our kids moving up to their next level in Sunday school, followed by a snow cone party. Kids in PreK-Kindergarten have been learning that church is a happy place, the Lord's prayer, and about Joseph and his coat. The Godly Play curriculum for 1st-3rd graders teaches Bible stories through story, play and wonder. The 4th-6th graders have been working hard on learning their Bible Black Belt pledge and scripture that share words of wisdom, comfort, celebration, and inspiration. We are still in need of Sunday school teachers. If you are interested in helping with any age group or have any questions, please contact me.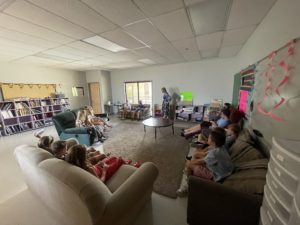 There are many exciting things happening in September. BeTween, our fellowship and service ministry for 4th-6th graders, begins on Wednesday, September 7 at 6:45 in room 203. The first meeting with be informational and parents are invited to attend (although it is not required). We have so many great things planned for our BeTween kids this year!
Dayspring Children's Ministries is starting its own gardening club. The Giving Garden team was gracious enough to provide us with two beds in the giving garden. Our first garden workday will be on Saturday, September 10 at 8:00 am. We will have a lot of work to do to turn over the beds and get them ready for planting. Parents are welcome to join us, or you can drop off your children. Please be sure to wear sunscreen and a hat, bring water and gardening gloves if you have them. If you enjoy gardening and would like to help us, please let me know.
Bible Sunday is coming up on September 18 at both services. If you have a child in 3rd grade or older who has not yet received a Bible and would like your child to participate, please email Andrea@dayspring-umc.org with the name you would like printed on your child's Bible and which service you plan to attend. We will also have our last snow cone Sunday of the year on Bible Sunday. Everyone who gets a Bible also gets a free snow cone! As always, all money raised from snow cones benefits Project Hope, our clean water well project in Africa.
Finally, on Friday, September 23, we are having a family movie night. Bring blankets, pillows, and stuffed animals to snuggle with as we cozy up and watch a movie in Fellowship Hall. Doors open at 6:00pm, movie starts at 6:30. Feel free to bring dinner. Chips and drinks will be available for purchase.
It is an absolute honor to serve the families of Dayspring! If there is ever anything I can do for you or if you have any questions, please contact me. Thank you!
Blessings,