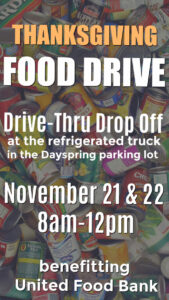 As we move into the Holiday season Children's ministry is looking for opportunities to continue to bring our community together in the ways that we have done in years past.  We will again be hosting our Thanksgiving food drive to benefit the United Food Bank.  This will be a drive by, drop off event.  We will have masked, distanced volunteers on hand to collect your items including non-perishable food items, frozen turkeys and even cash donations for the purchase of produce.  Food items could be dropped off on November 21 and 22 between 8am-12pm.  This year, the holiday season will surely find larger numbers of families in need than in years past.  Please help us do our small part to support these families.
Needed items include: Peanut Butter; Canned Meats; Canned Fruits and Vegetables; Whole Grain, Low Sugar Cereal; Canned Soups, Stews, Chili, and Beans; Canned/Dried Milk; Rice and Beans; and FROZEN TURKEYS. Please, no glass jars, baby food, or opened food. If you are not able to come over, you may securely donate online HERE.
Looking ahead to December, we are planning a Family Advent Activity to help bring your family together to focus on the true spirit of the season and connect us all together in ministry. Be looking for more details to come later in November.
We continue to host our weekly Sunday school zoom meetings at 10:00 for PreK-2nd Grade and at 10:30 for 3rd – 6th graders. Email Emily for the zoom information. We also update our virtual classroom weekly with the bible story for the week as well as personal videos, activities, and stories that support the theme. We hope you can connect with us soon.
Finally, in a year that has been filled with unexpected events, disappointments, hardship and loss for so many people, it can make it difficult to see all the many blessings in our lives. This season of giving thanks, I invite you to spend some extra time with your families in conversation about our many blessings even in difficult times.
-Emily Slater
Children's Ministries Coordinator