Holy Week 2020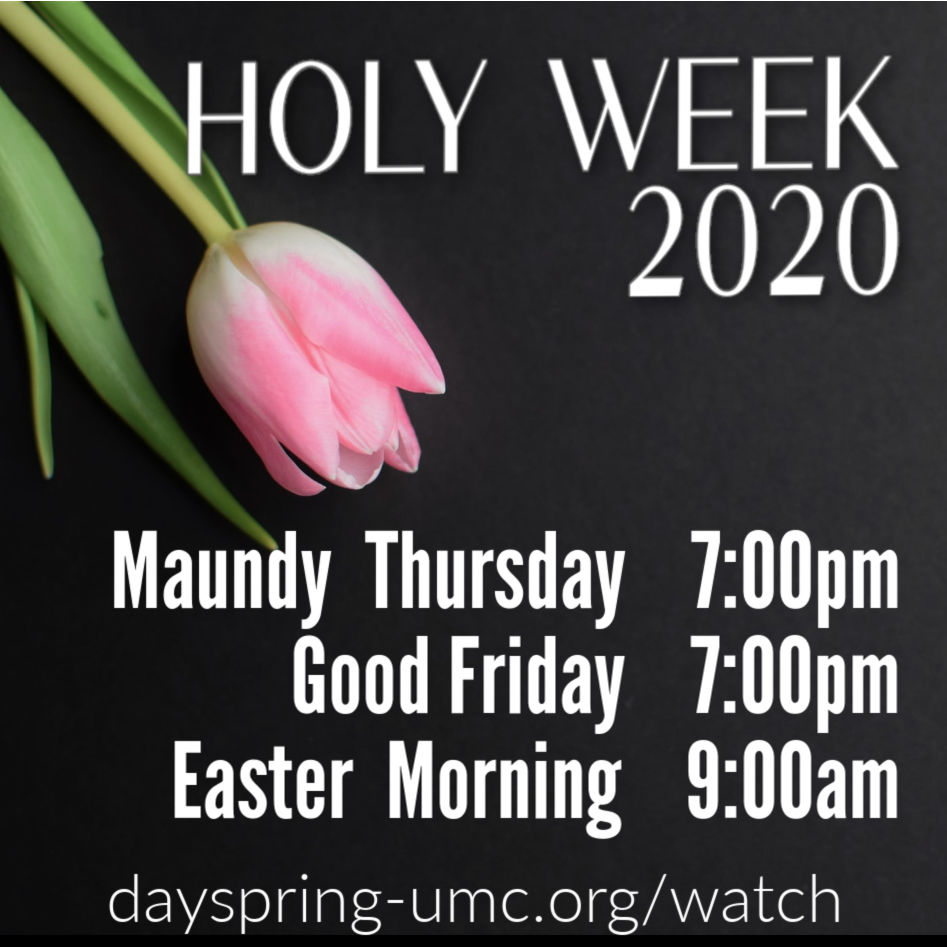 This Lenten Season 2020 has taken on new meaning for us in the midst of the Coronavirus pandemic. Disbelief, sadness, anger, doubt, fear, apprehension –these are a few of the feelings we have all undoubtedly had during these days. But underneath all of these feelings is a feeling of profound hope.
"Nothing can separate us from the Love of God. Will hardship, or distress, or persecution,or famine, or nakedness, or peril, or sword? No, in all these things we are more than conquerors through him who loved us. For I am convinced that neither death, nor life, nor angels, nor rulers, nor things present, nor things to come, nor powers, nor height, nor depth, nor anything else in all creation, will be able to separate us from the Love of God in Christ Jesus our Lord."(Romans 8:37-39)
We are experiencing Holy Week now –a different time than we have ever had before!!! But also a memorable time for we will remember the depth of love that we feel as a Community of Faith at Dayspring during these days. Although we are not one in body, we are truly one in Spirit. We are here for and with each other in different ways and the bond is very present. New ways of worshipping have deeper meaning. Livestream offers us the opportunity to worship together on Maundy Thursday, Good Friday and on Easter Sunday.Weekly phone calls keep us in relationship with each other. Weekly prayer concerns are published. God is very present. May this be a renewal time for you in your spiritual journey. May you take advantage of this time to feel refreshed in your life journey. May this Week become even more Holy for you.
~Pastor Shirley