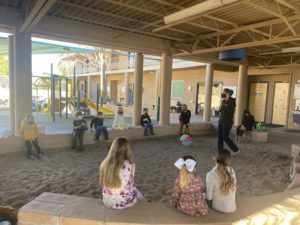 We are hopeful to be able to return to some of our normal programming in February.  Sunday school classes continue to meet in person on Sunday mornings during the 10:30 service.  If you would like to help out with one of our classrooms please reach out to learn more. The 9:00 Sunday school classes have been temporarily paused.
This month in Sunday school our children will be learning about the ministry and teachings of Jesus. Later this month, our children will be exploring the story of the Parable of Talents to allow for them to participate in the parable of talents event on the patio on February 27. All the money raised will be donated to our clean water well projects in Africa. This year we are hoping to raise money to fund two wells, one in Liberia and one at a school in Uganda.
Our Between program is kicking off again in February, beginning with a backyard games night on February 2, email Emily for more information. This is an open door ministry for children in 4th – 6th grade so even if you haven't joined us before, you are welcome to come to a meeting any Wednesday at 6:45. On February 13, we will again be taking on the Souperbowl of Caring Challenge. Our Between group will be collecting change and small bills to support a local food bank to help tackle hunger on the day of the Big Game.
We are also looking forward to our Family picnic event on February 6 at 11:45am. Please note the location change; we will have family games and activities on the church patio, volleyball courts, and playground. Bring a picnic lunch for your family and join us for an afternoon of outdoor family fun and games. We are planning on corn hole, giant beach volleyball, and more. We will have some patio seating available but feel free to bring a couple of chairs if you want to be sure you have a place to sit. We hope you can all join us!