I write this in January for you to read in February. By the time you see it, what will have transpired? We keep experiencing the unimaginable, and I'm still reeling from the events of January 6 and their aftermath. Let's hope that we're in more hopeful times when this is published.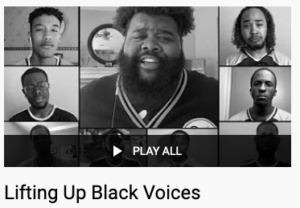 Our January concert had to be postponed because of illness. Once everyone is fully recovered, we will announce a new date. Meanwhile, here are two YouTube playlists I invite you to explore.
"Lifting Up Black Voices." This is an eclectic mix of music written or performed by Black musicians that I compiled some months ago: https://bit.ly/3tljsub
"Soundtrack for Justice." This was compiled by Debby Irving for the 21-Day Racial Equity Habit-Building Challenge. Whether or not you participated in that activity in the summer, you may find this music challenging and uplifting: https://bit.ly/3ajNyW6
Music Appreciation Hour continues each Wednesday evening from 7 – 8. You do not need to be a member of the choir to participate. During Lent, we will have special music. On February 17, Ash Wednesday, we will look at music suitable for Lent, especially settings of Psalm 51, closely associated with Ash Wednesday. Then beginning February 24 and continuing through March 31, we will do a concurrent Bible and music study on Elijah. We will explore Mendelssohn's oratorio ELIJAH in detail, taking a portion of the work each week. We'll explore the background of the composition and also consider its biblical basis–a little music history, a little Bible history, a little analysis about how you tell a story in music, and even a little theology! Please come and share your insights and ideas about this important (and often misunderstood) figure in the stories of the prophets.
So many events have had profound effects on our lives and thinking in the last year. My wish is that we may all find calm and serenity in a turbulent world. For some of us, music can be a way into that space. However you find it, may you know the peace that passes all understanding.
-David Schildkret