Ash Wednesday is February 22, 2023.
Drive-thru ashes will be offered in the Tempe parking lot from 11:00am-12:30pm.
Ashes will be offered from 11:00am-1:00pm in Arcadia. You are invited to receive ashes and stay awhile afterward to reflect on the beautiful stained-glass windows; a self-guided meditation will be provided.
An Ash Wednesday Taizé Service with ashes will be held in the Tempe Sanctuary at 6:00pm.
---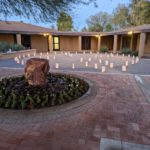 LABYRINTH WALKS: Walk the Tempe labyrinth on Ash Wednesday, anytime between 5:00 and 7:30pm. Laura Hudson and Rev. Rosemary will light up the labyrinth with candles and be there to answer questions, walk the labyrinth with you, and assist however you need! A portable labyrinth will be available in the Arcadia sanctuary during Lent and may be walked before and after Sunday services as well as on Ash Wednesday.
---
LENT: Our Lenten devotional this year is "Bless the Lent We Actually Have: 40 Days to Reflect, Pray, and Bless Our Imperfect Lives," by Dr. Kate Bowler. Download the free devotional at katebowler.com/blessthislent/ (scroll down to Daily Devotional Guide For Individual Use). Print copies are available upon request.
Weekly gatherings for those who would like to process the Lenten devotional experience in community will be offered at 8:00am on Sundays in Tempe and 9:30am in Arcadia, 5:00pm on Mondays via Zoom, and 10:00am on Thursdays at Friendship Village.